WSP Strip Plants for Annealing, Degreasing, Pickling and Brushing of Strips

We cover the complete range of strip plants. Mainly, strip annealing lines, degreasing lines, pickling lines, coating lines or tinning lines. All of these can be continuous (CAL) or discontinuous. Engineering and manufacturing are completely excecuted in Aachen, Germany. We gained worldwide experience in installation and commissioning of turnkey systems.
Typical parameters of our plants:
| Parameter | | Range |
| --- | --- | --- |
| Strip material | | Copper, brass, bronze, aluminum |
| Strip width | | 300 - 1,200 mm |
| Strip thicknesses | | 0.05 - 5.0 mm (up to 6.0 mm for aluminum) |
| Strip speed | | 40 - 100 m/min (up to 200 m/min for thin strip-plants) |
| Type of operation | | discontinuous (batch operation) and continuous |
| Building | | on one level up to three levels - anything is possible |
| Strip connection | | mechanical punch with lacing bond or welding connection |
If you like to optimize or exchange parts of an existing line or even if you require a completely new line - contact the WSP Team for expert advise!
One Example: WSP Torque Dancers for lowest Tensions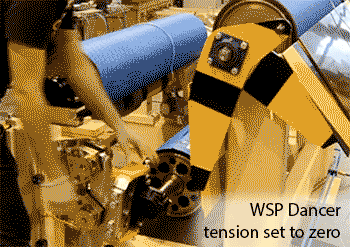 This video shows you the advantages ouf our Torque Dancer:
no stick-slip-effects (compared to pneumatic dancers)
no damping which is always the case for pneumatic dancers (air must be discharged)
because the dancer arm is coupled directly to the torque motor, there are no friction losses as it would be the case with an extra gear.
the common error of a swing dancer (feeding angle/exit angle are changing) is compensated (in real time) by our WSP Control System.
The WSP Torque Dancer is suitable for areas where tension accuracy is of particular importance. Integration into an existing system is possible.