WSP Strip Floatation Furnaces - modern concepts which have convinced many customers.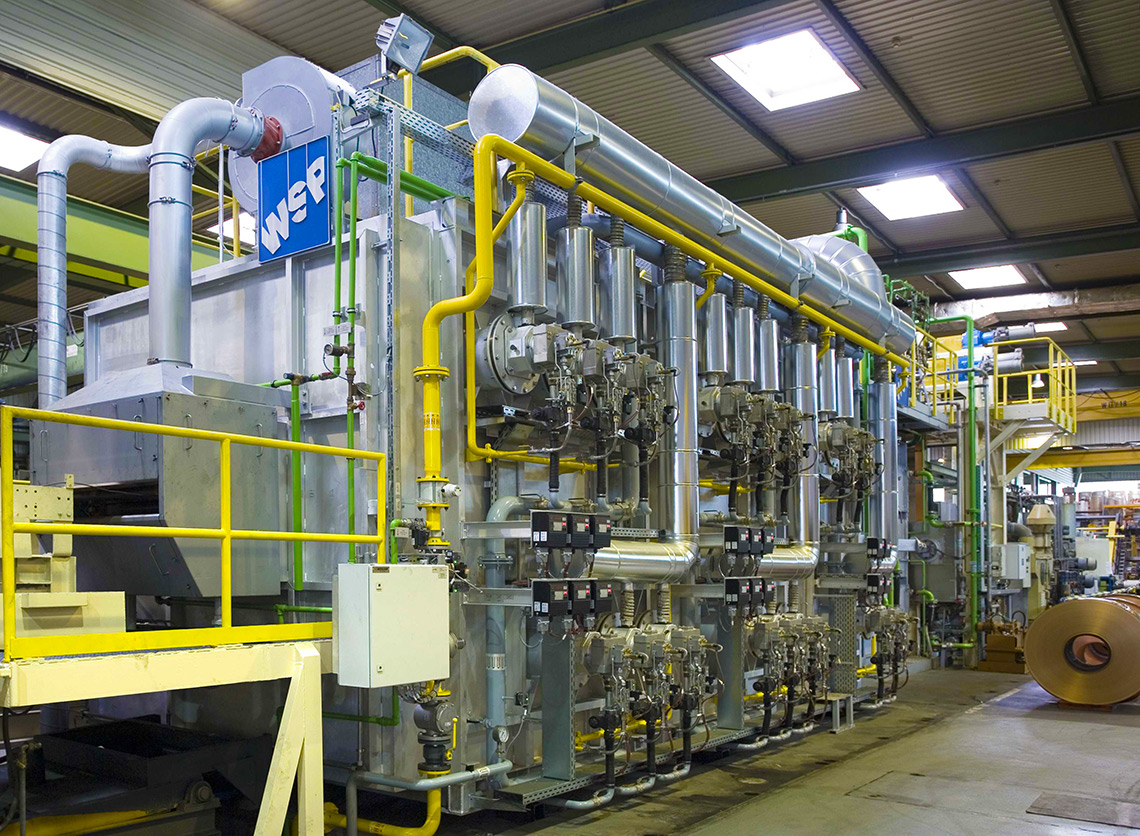 Decades of research and continuous development have been incorporated into our current solutions. We keep close contact to all our customers and listen to their desires carefully. We are eager to improve our strip floatation furnace continously according to our customers' experiences and requirements. There is not only one optimal strip floatation furnace. The design ouf our strip floatation furnaces is always taylored for your specific application. Our engineering starts with the definition of your product, e.g.:
Strip thicknesses and strip widths
Alloy types and desired type of annealing
Desired throughput Based on this information, we develop a concept for a customized furnace. We trust that our furnace will fully meet your requirements.
Hot Gas Fans
| | |
| --- | --- |
| | The centerpiece of your strip floatation furnace are its fans. They are a decisive factor for the performance of your furnace. More than 10 years ago we decided to develop and manufacture our own hot gas fans, since the standard hot gas fans were not able to meet our requirements in terms of quality, efficiency, and performance. This has become a competitive advantage: WSP-fans can even handle (float) strips which cannot be handled by conventional fans. | |
Nozzle Systems
| | |
| --- | --- |
| | Our WSP Nozzle Systems are generally optimized for high and constant heat transfer over the entire strip. WSP Nozzle Systems ensure longevity (low creep) and rubustness (for the unlikely event of contact). We have developed optimized nozzle systems with higher loading capacity for thicker strips. When it comes to thinner strips, vibration strength is important. Please learn more from the video! |
Characteristics of our Strip Floatation Furnaces
Max. furnace temperature: 750 - 850 ℃ for special cases up to 900 ℃ are possible
Strip widths: from 200 to 1,300 mm
Strip thickness: with nozzle systems for thin strips from 15 micron to 1.5 mm
With nozzle systems for thick strips from 1.0 to 5.0 mm
Structure: modular in zones, variable length
Annealing power: according to design 3.000 to 20.000 kg/h
Typical, specific strip tensions: very low, often < 1,0 N/mm2. Strips can be annealed very plane.
Atmosphere: air or protective gas atmosphere, optional with automatical change of atmosphere
Protective gas: nitrogen with up to 5% hydrogen, with appropriate safety features: up to 25% hydrogen
Heating - Different Options
Our furnaces are electrically heated or gas-heated. We focus on an energy-saving recuperator burner technology, e.g. from WS Waermeprozesstechnik GmbH. Arrangement and power of burners according to your requirements.